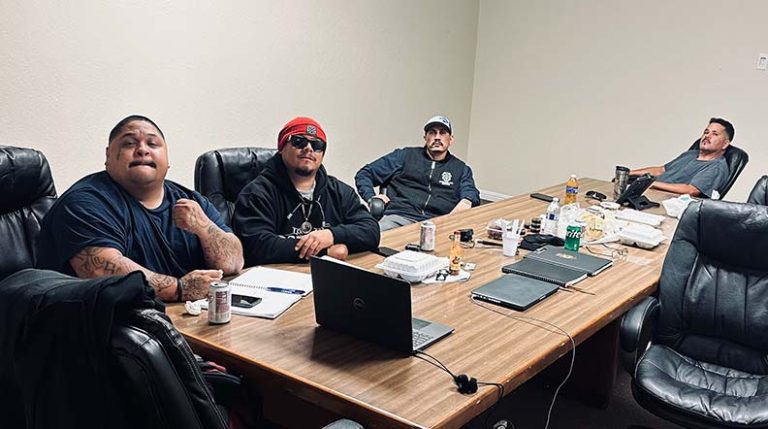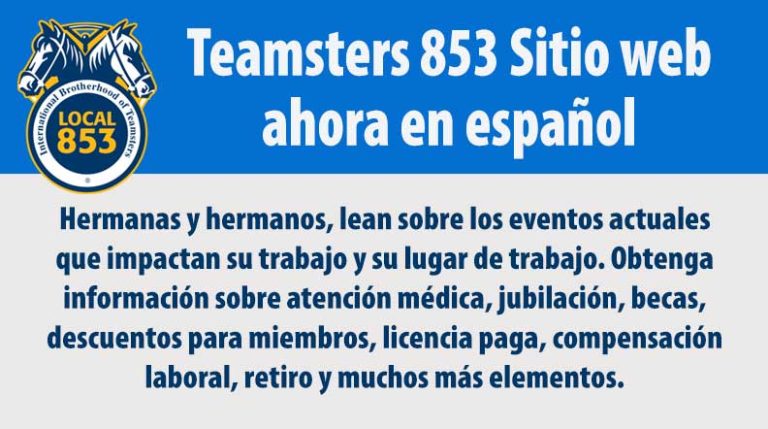 Sisters and brothers, read about current events that impact your work and your workplace. Learn about healthcare, retirement, scholarships, member discounts, paid leave, workers' compensation, retirement, and many more items. Sign up to receive email updates from Teamster 853 Locals. Specify Spanish as your preferred language and we will send important notifications and events to …
Teamsters 853 website now in Spanish Read More »
Read More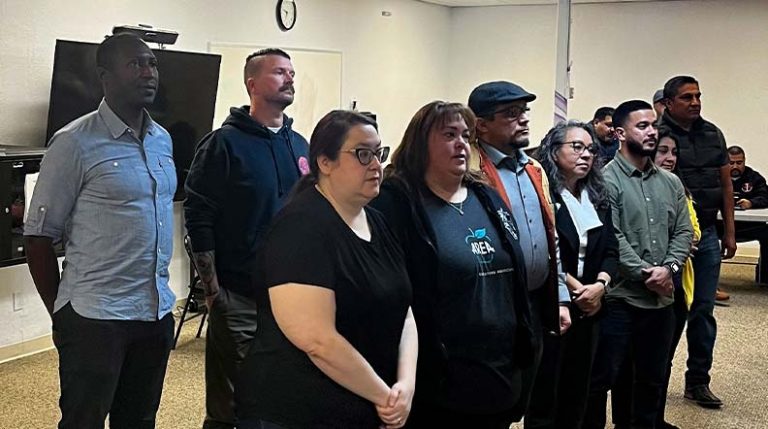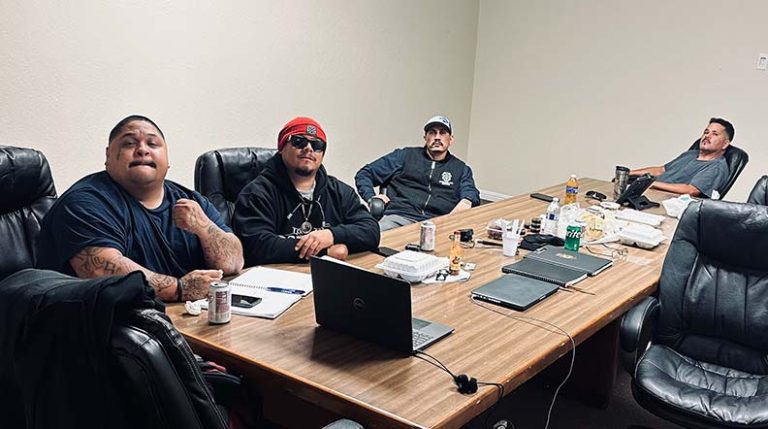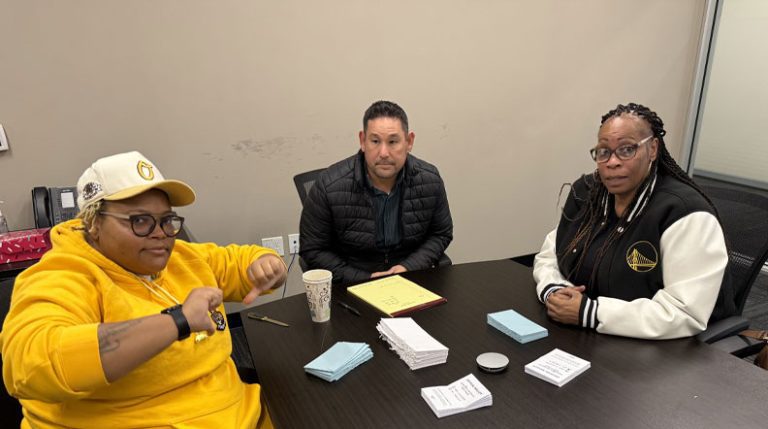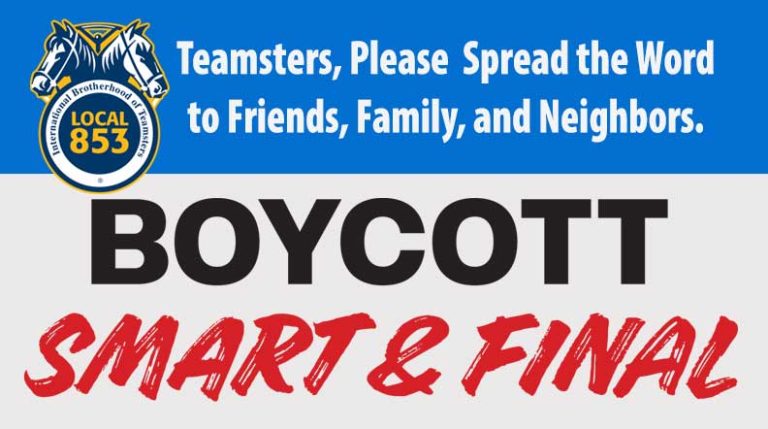 Hundreds of Teamsters working at Smart & Final in Southern California are on strike in the face of the company's ongoing unfair labor practices.Workers voted for union representation, but now Grupo Comercial Chedraui – a $13 billion Mexican company that owns Smart & Final – plans to fire them all and force workers to re-apply …
Teamsters Call to Boycott Smart & Final in California Read More »
Read More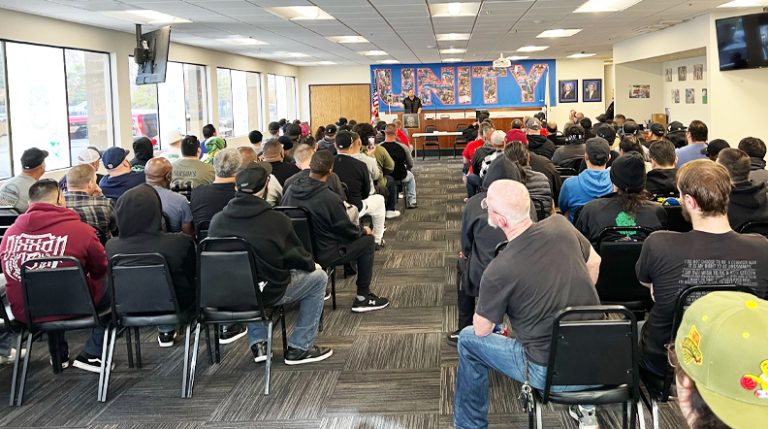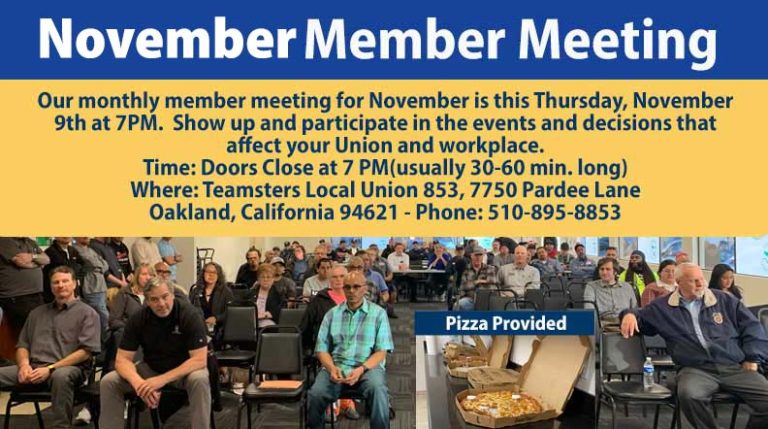 Our monthly member meeting for November is this Thursday, November 9th at 7PM. Show up and participate in the events and decisions that affect your Union and workplace. Time: Doors Close at 7 PM(usually 30-60 min. long) Where: Teamsters Local Union 853, 7750 Pardee Lane Oakland, California 94621 – Phone: 510-895-8853
Read More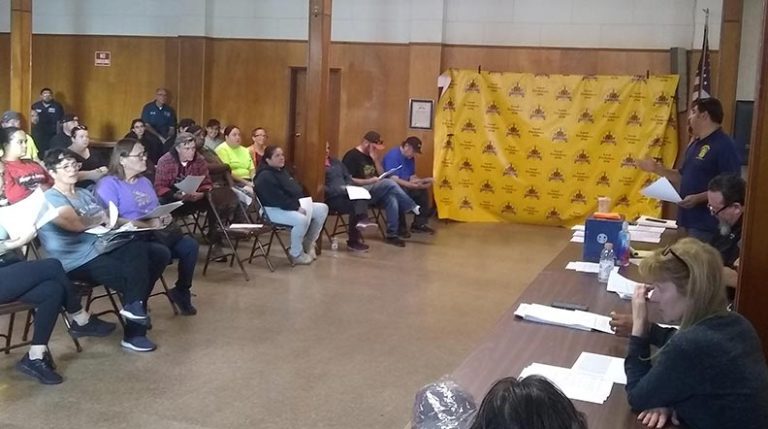 Today was a good day for all the Teamsters who work at the Amports compounds on this new contract. Negotiations secured the highest pay raises in Amport's history while not giving up any other current benefits. Gains were also made on Vacation and some other important language in the contract. "Our members stuck together and …
Amports overwhelmingly ratifies new 5-year contract. Read More »
Read More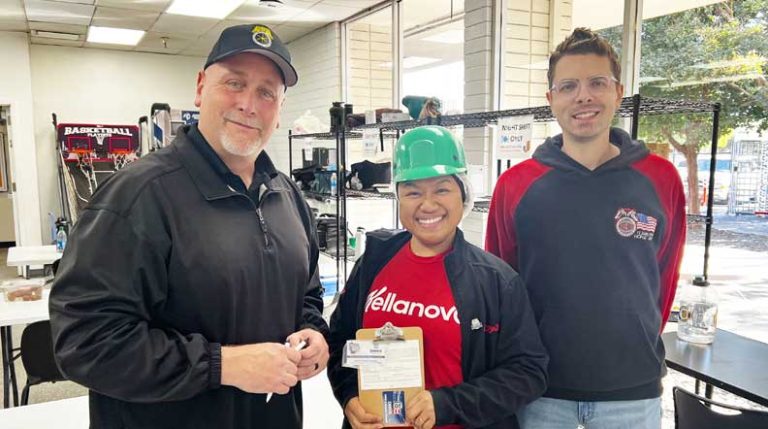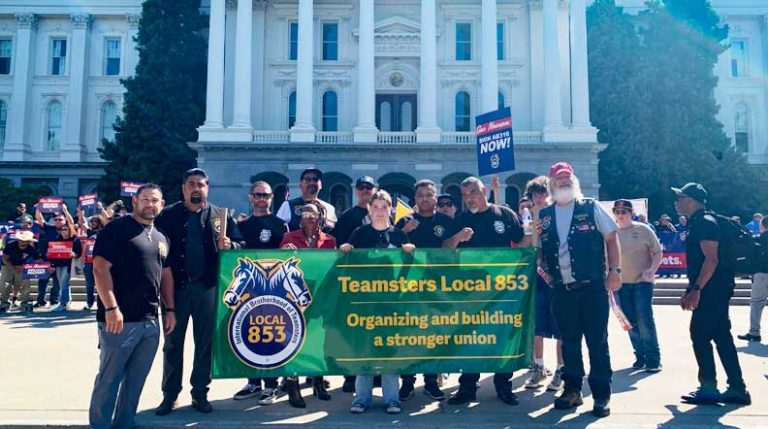 Sisters and Brothers, Over the past weeks and months, the Teamsters in the Bay Area have been focusing on the growing danger that the Robotaxi and autonomous driving vehicles technology poses to Teamsters' jobs and public safety. We had the big rally in Sacramento to bring attention to AB316 legislation to Governor Newsom's attention, and most recently, …
Teamsters Win Battle in the Robotaxi War Read More »
Read More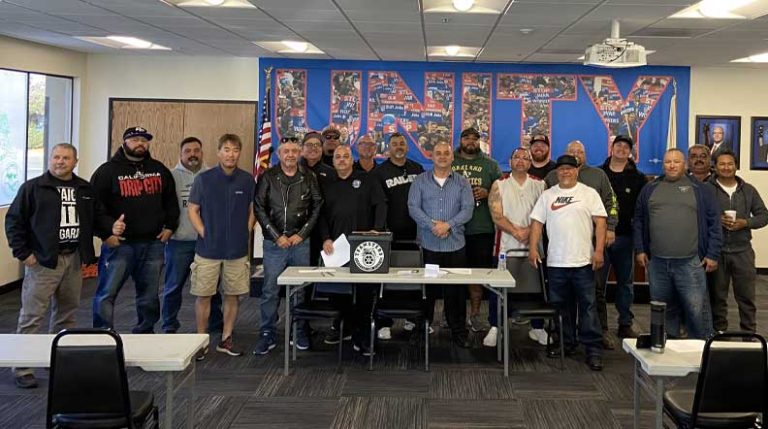 Big shout out to the Right Away crew, who just ratified a 3-year contract extension. Congratulations!!!
Read More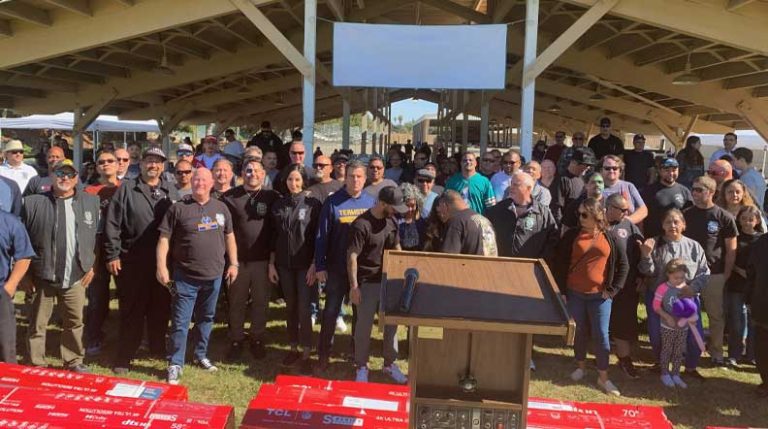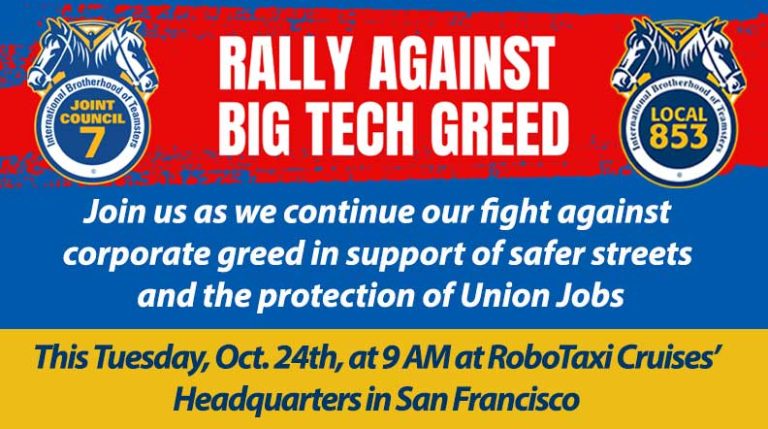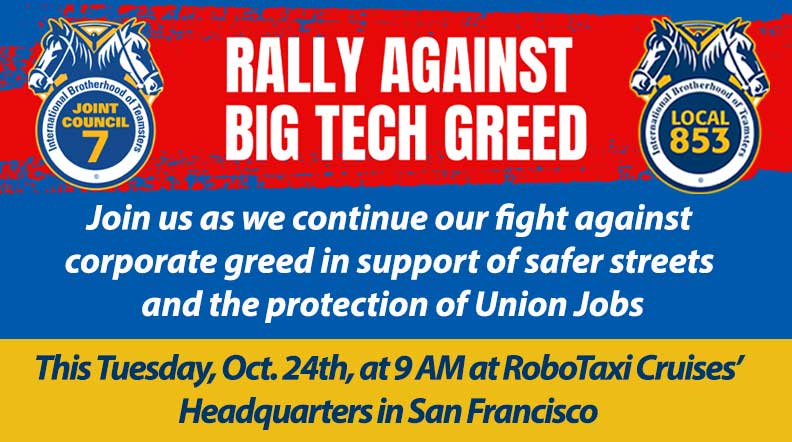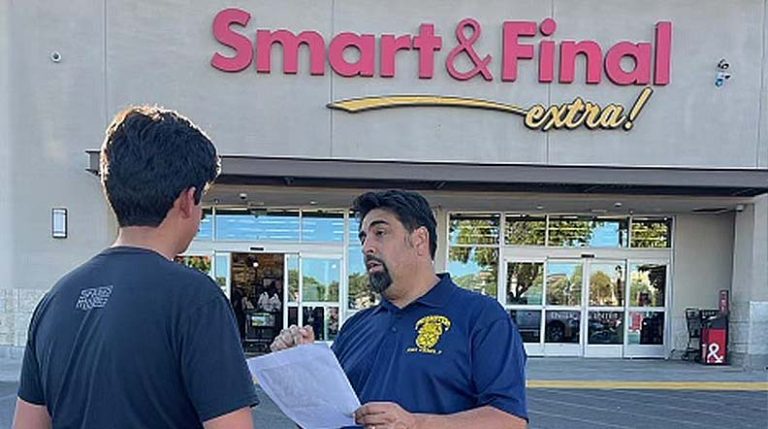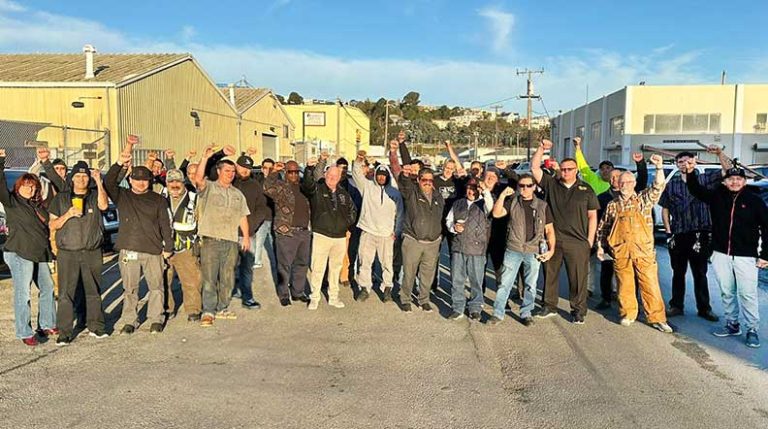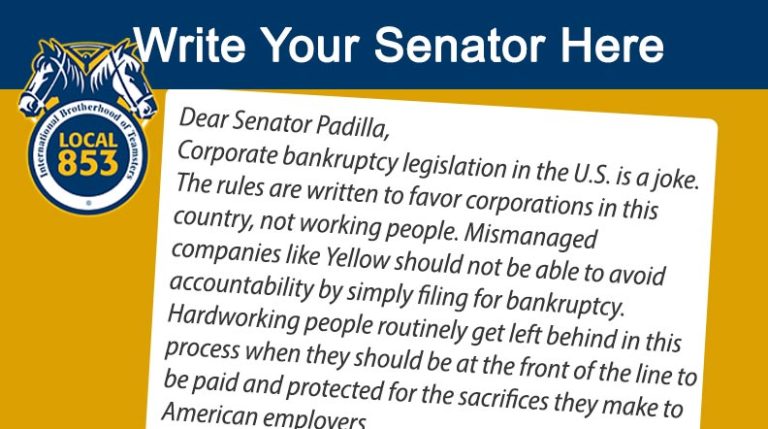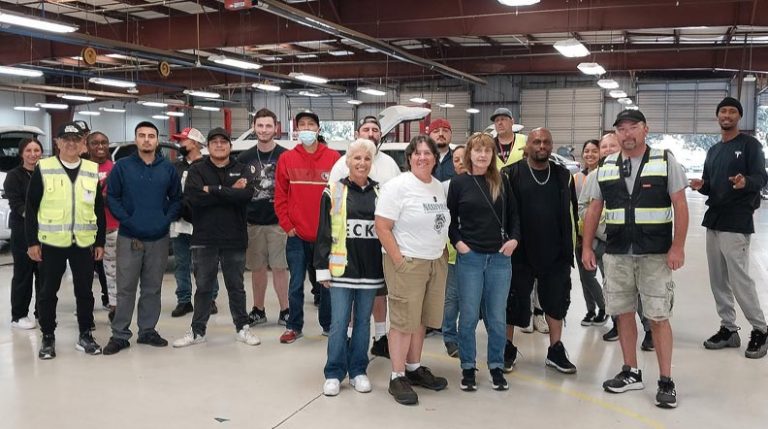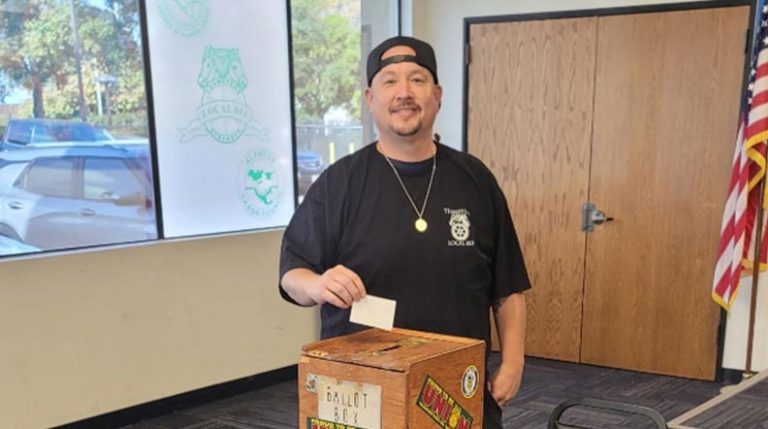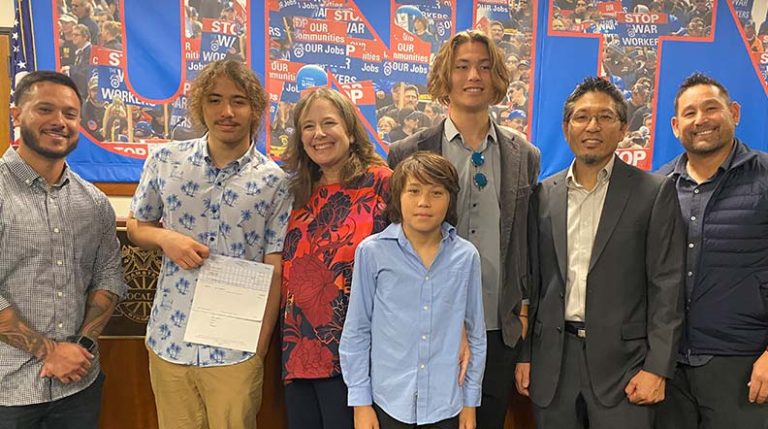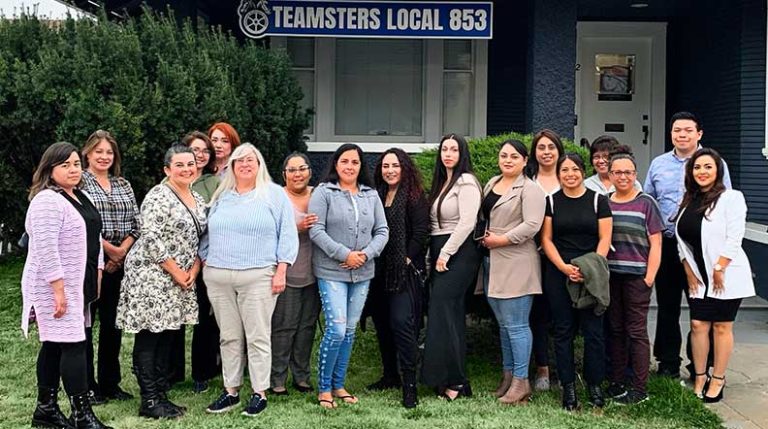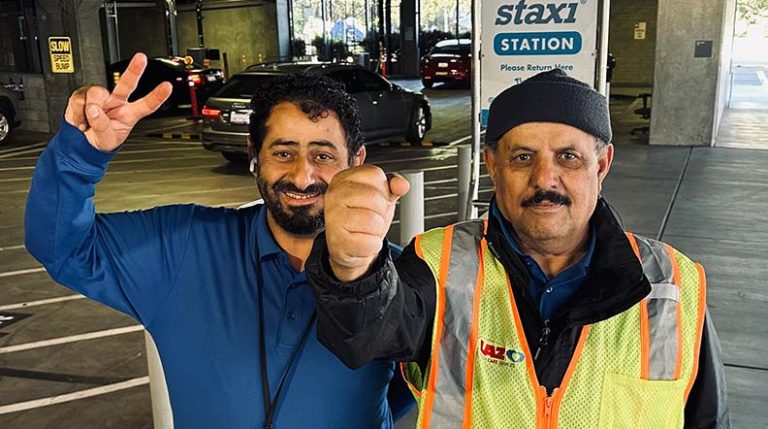 Teamsters 853 Member Ali Shabana (in vest) was laid off in June 2016 when Laz took over parking management at Kaiser, Oakland.  Laz rehired him four months later without recognizing his original seniority date of 2012. So Ali has been forced to BID with lower seniority.   When Ali brought his circumstances to his Business Agent, James …
Teamsters Get Longtime Laz Employee's Seniority Back Read More »
Read More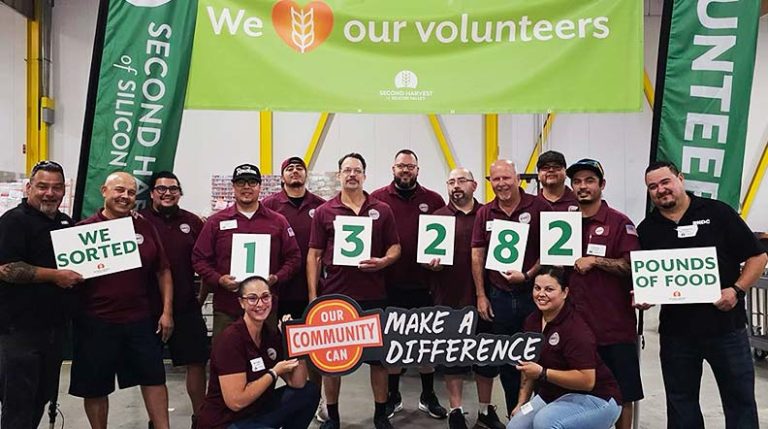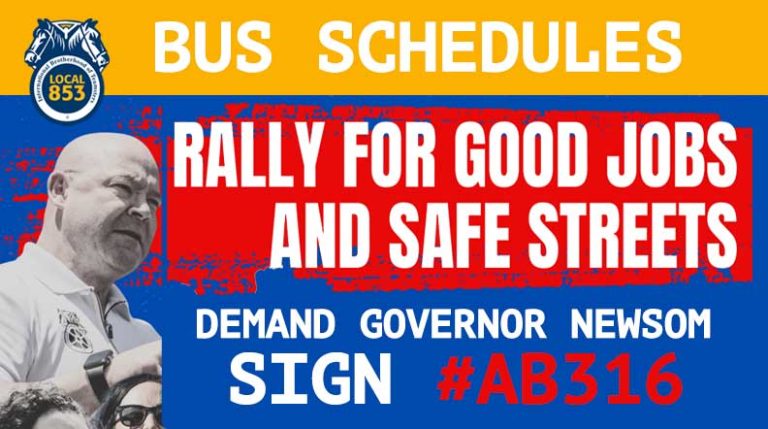 Sisters and Brothers, In four days, the Teamsters have a monumental opportunity to push back hard against corporate greed at a State Level. AB316 protects Teamster Jobs, makes streets safer, and puts corporate greed in check. If you are not working this Tuesday, please join our rally in Sacramento to deliver a message to Governor …
AB316 Rally Bus Schedules / Departure Details / RSVP Read More »
Read More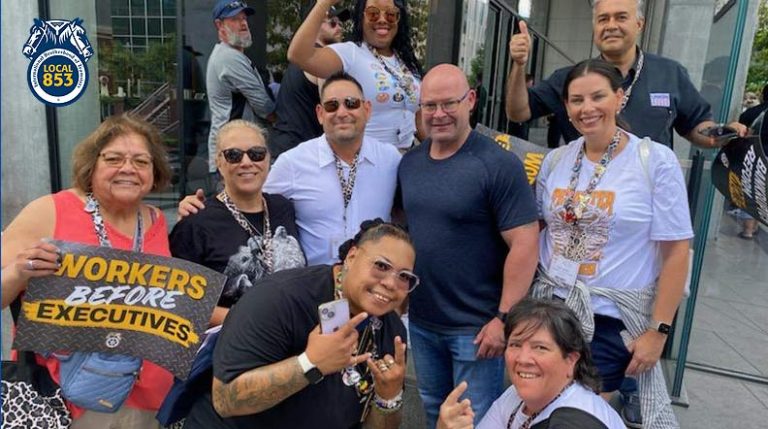 Teamsters Local 853 women attendees along with Secretary Treasurer, Steve Beck and Teamster General President Sean O'Brien
Read More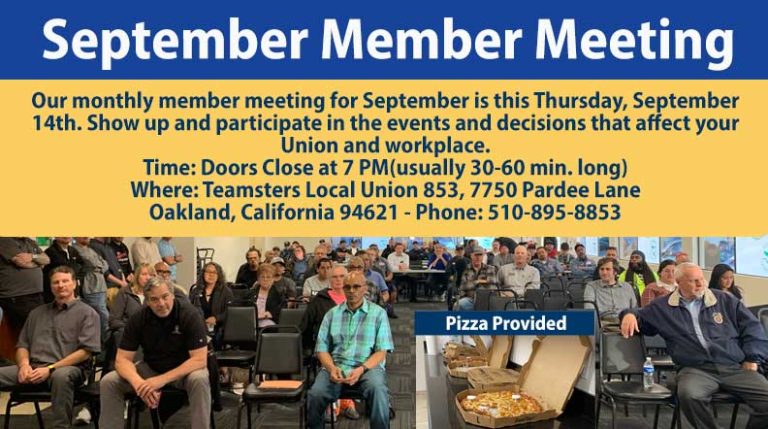 Our monthly member meeting for September is this Thursday, September 14th. Show up and participate in the events and decisions that affect your Union and workplace.Time: Doors Close at 7 PM(usually 30-60 min. long)Where: Teamsters Local Union 853, 7750 Pardee LaneOakland, California 94621 – Phone: 510-895-8853
Read More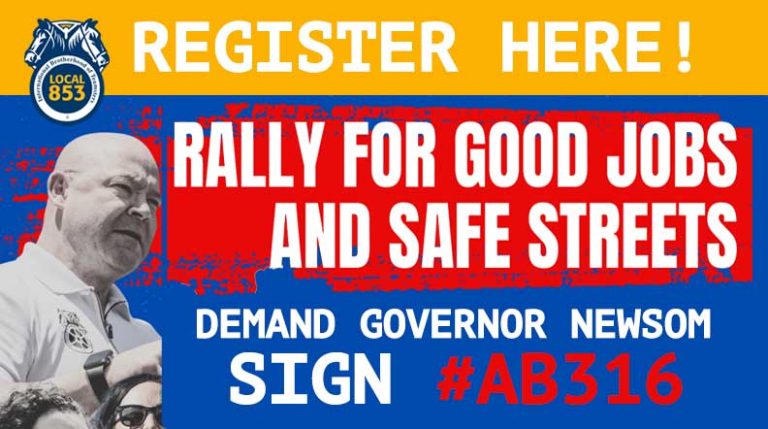 Sisters and Brothers, On September 19th, Teamsters all across Northern California will be attending a significant event that will push back against corporate greed and unchallenged new technology in the state of California. For many months, Teamsters in the Joint Council 7 have spearheaded support for legislation called AB316. AB316 is legislation that will responsibly …
AB316: This is a big event that needs your help as a Teamster Read More »
Read More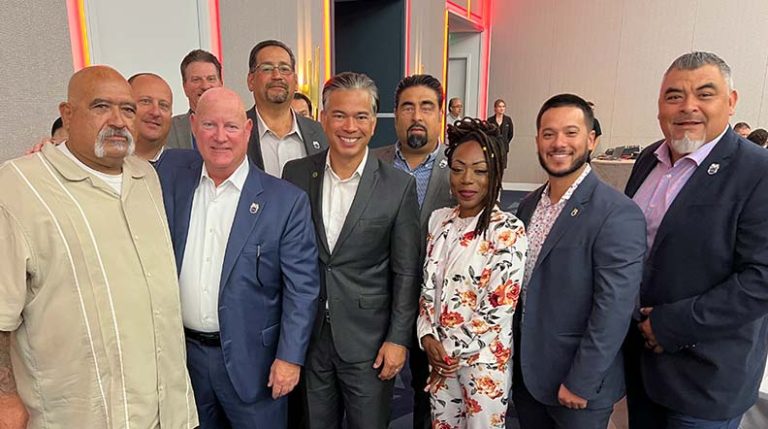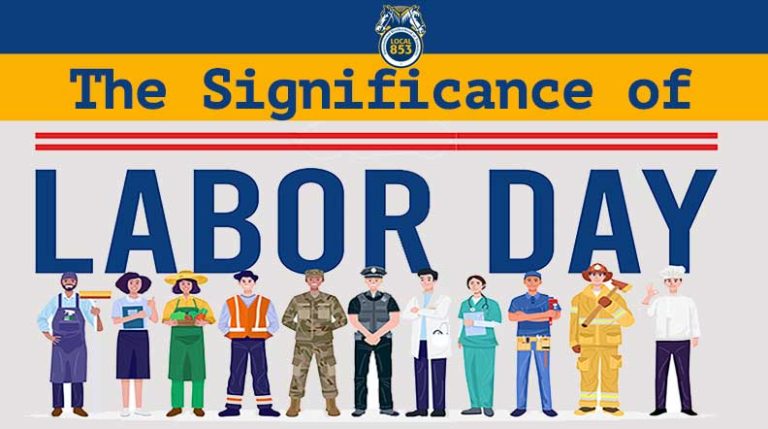 853 Sisters and Brothers, Labor Day holds immense significance for Teamster members as it commemorates our union's hard-fought victories and enduring Solidarity. This day honors the dedication of those who rallied for workers' rights, leading to better wages, improved working conditions, and the establishment of unions. It reminds us of the power of collective action …
Continuing the Legacy of Those Who Came Before Us. Read More »
Read More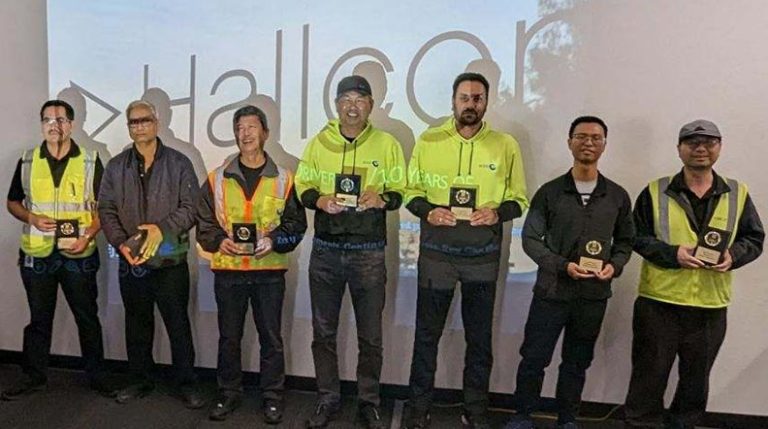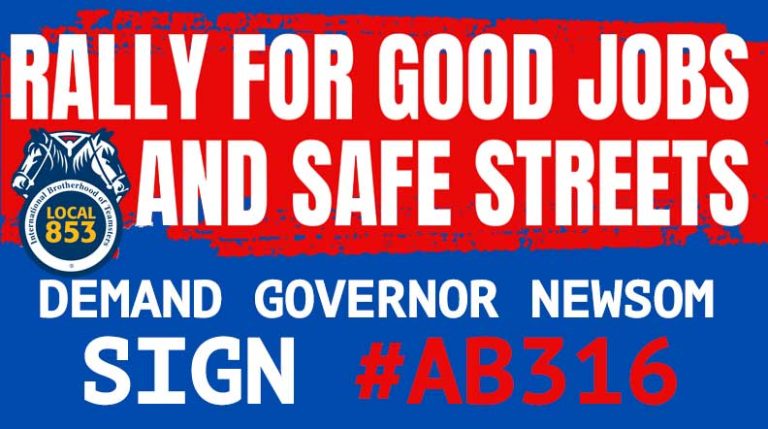 Sisters and Brothers, It's no secret that the rapid advancement of artificial intelligence is reshaping entire industries. This is triggering unprecedented changes in how we live and work and threatens the livelihoods of millions of working people nationwide.Teamster drivers are at the forefront of this fight as autonomous vehicles are rolled out across the state.Autonomous …
Rally for Good Jobs and Safe Streets – Can you attend? Read More »
Read More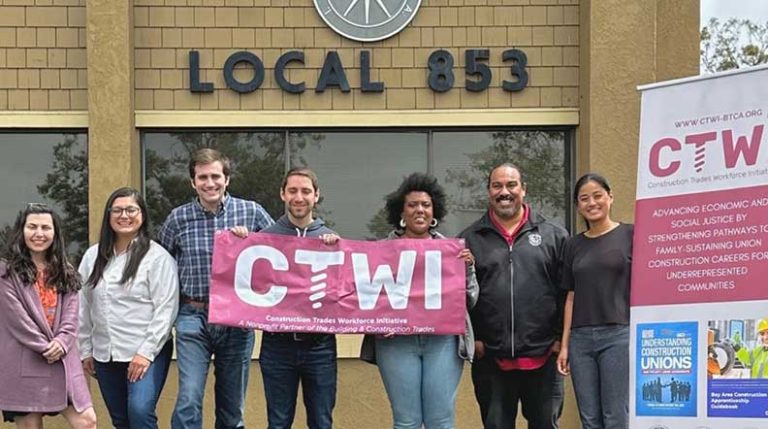 CTWI ratifies its first full-blown negotiated contract renewal.  Congratulations to the members, they had great gains in wages and their Western Conference Pension contributions and maintained their strong medical plan.
Read More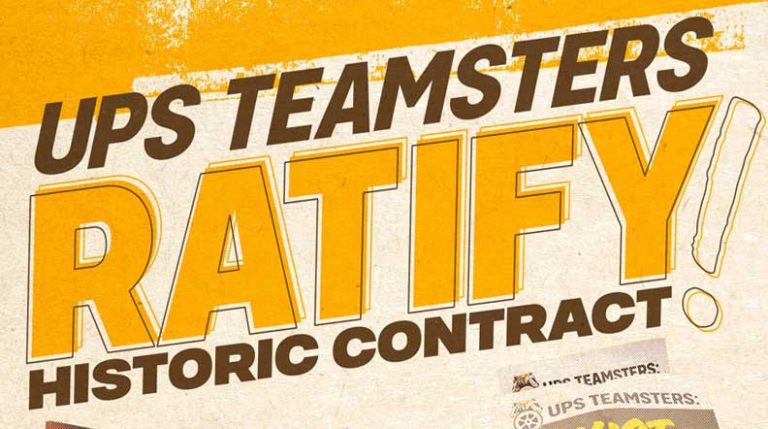 Today, Teamsters voted by an overwhelming 86.3 percent to ratify the most historic collective bargaining agreement in the history of UPS. The five-year contract protects and rewards more than 340,000 UPS Teamsters nationwide, raising wages for full- and part-time workers, creating more full-time jobs, and securing important workplace protections, including air conditioning. The agreement passed …
UPS Teamsters Ratify Historic Contract Read More »
Read More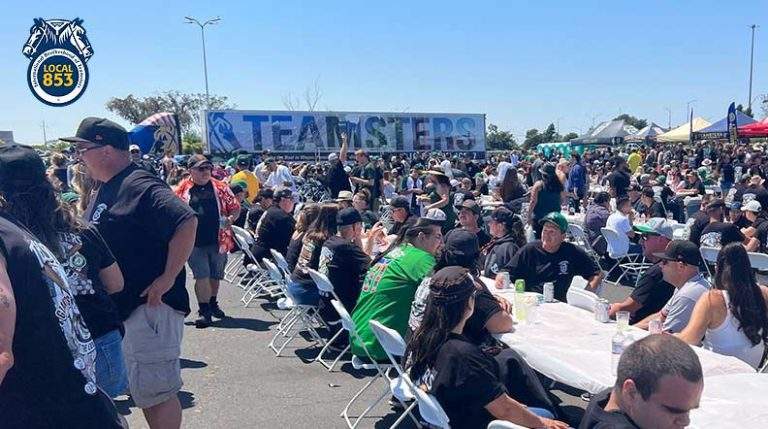 Teamsters JC7 day at the ballpark! The weather was beautiful, and everyone had a great time. We hope to see even more 853 Members out next year!!
Read More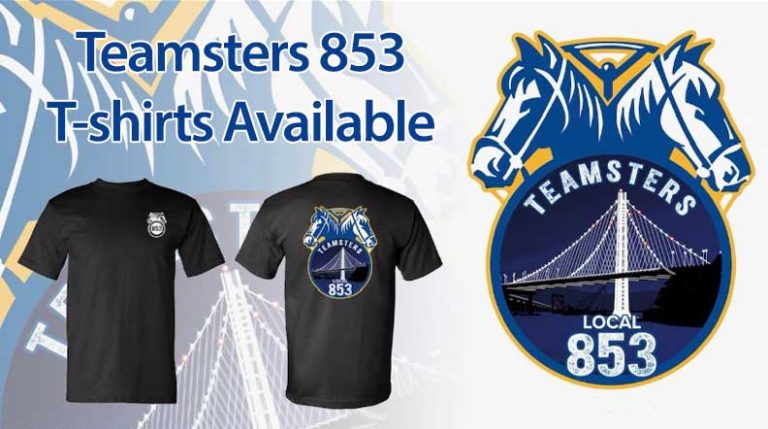 A new batch of shirts has arrived!! Get yours: $20 each. Contact your business agent or the office here to get yours: https://teamsters853.org/our-team-officers-staff/
Read More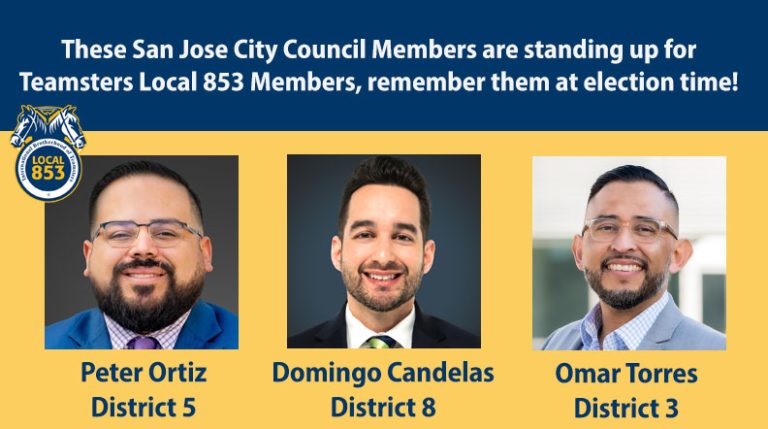 There is no excerpt because this is a protected post.
Read More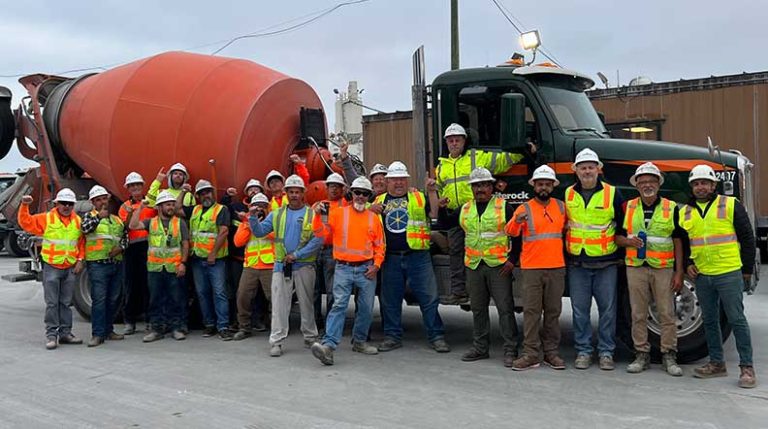 Granite Rock, Redwood City and San Jose voted to ratify a 2-year contract extension.
Read More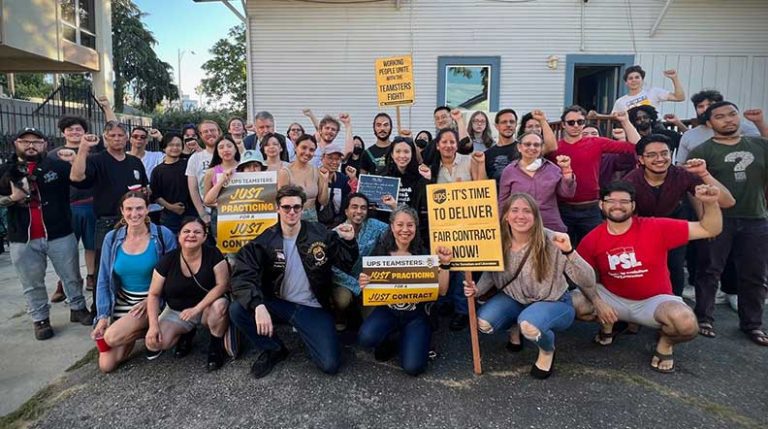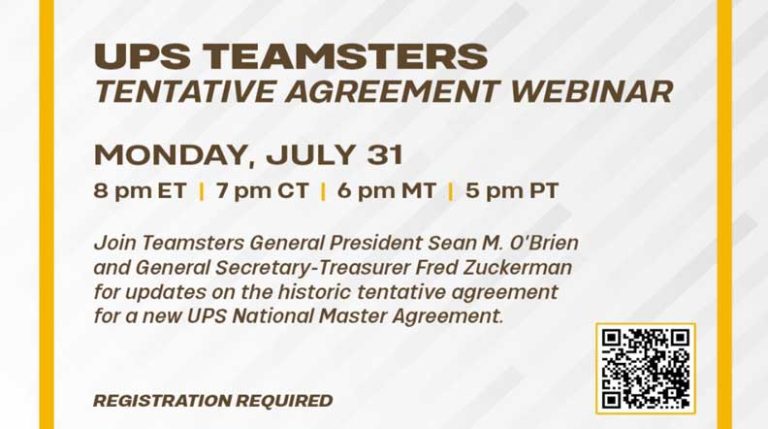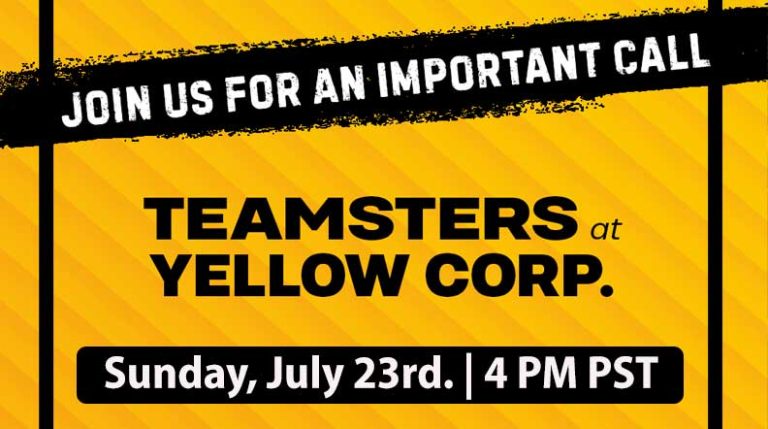 ATTENTION TEAMSTERS 853 MEMBERS AT YELLOW: On Sunday, July 23 at 4:00 p.m. PST, Teamsters National Freight Director John A. Murphy will be holding another important call for members at Yellow Corp. All members at Yellow operating companies (YRC Freight, Holland, New Penn, and Reddaway) are encouraged to attend. Pre-registration is required. Go to ibt.io/YellowZoom …
Yellow Corp Teamster 853 Members, Join this Strike Update call Read More »
Read More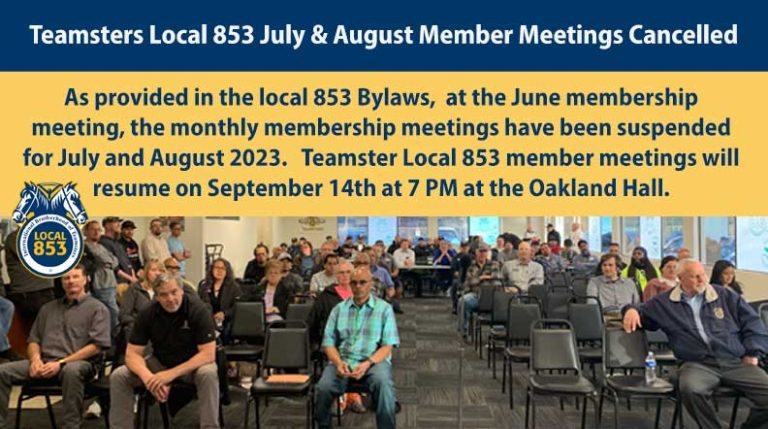 In observance of the Summertime for vacationing members, a vote was taken and approved by membership to suspend monthly member meetings for July and August. Teamster Local 853 member meetings will resume on September 14th at 7 PM at the Oakland Hall.
Read More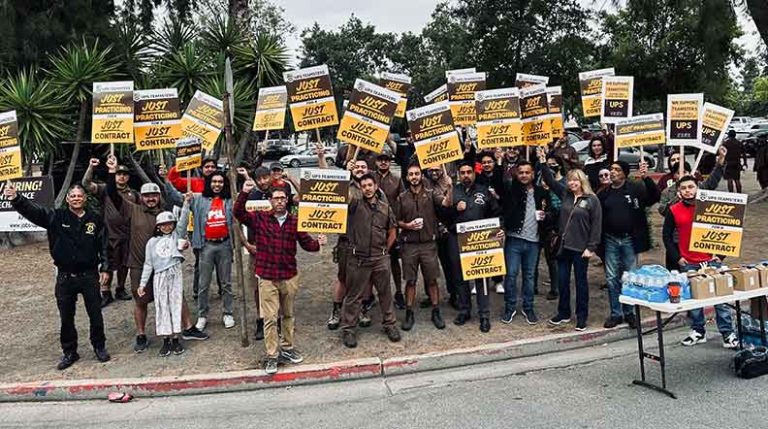 UPS Sisters and Brothers, big shout out to these members today. Sunnyvale turned out and we are stronger and in a better position for it. As we move through the next few weeks to the contract deadline, GET MORE INVOLVED, SIGN UP, SHOW UP, talk to David Crawford(UPS Business Agent) and Steven Lua(President, UPS Business …
Shout Out to Sunnyvale UPS Teamsters 853 Members Read More »
Read More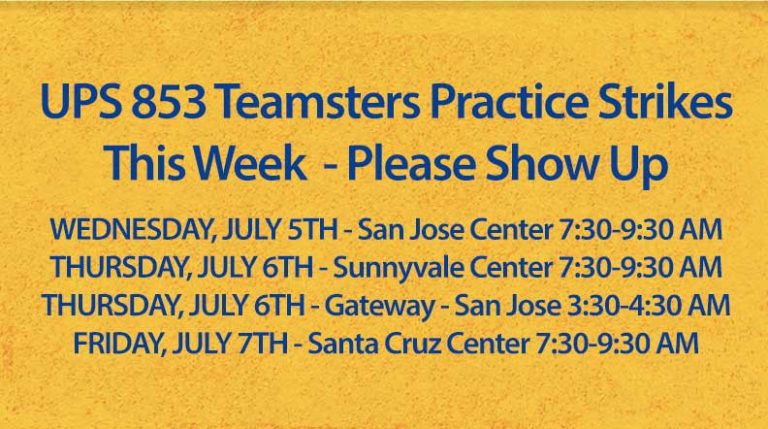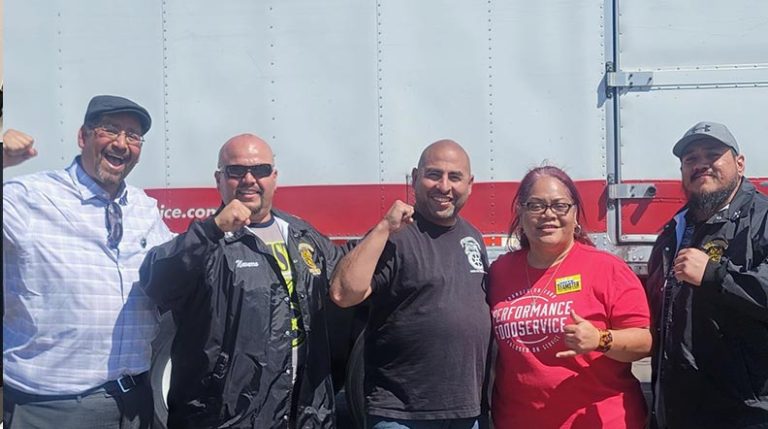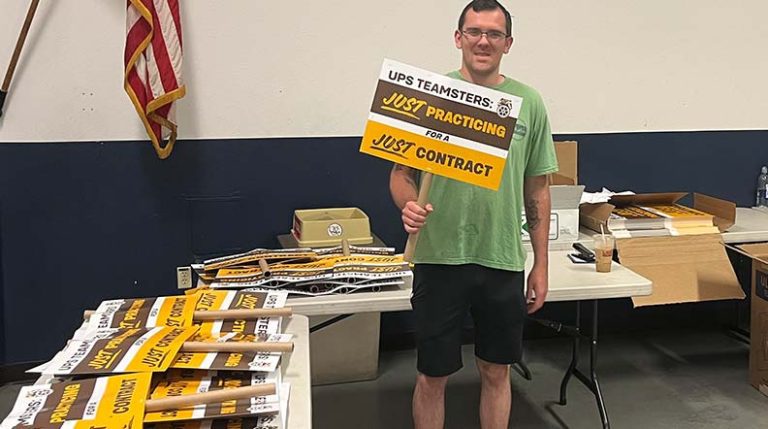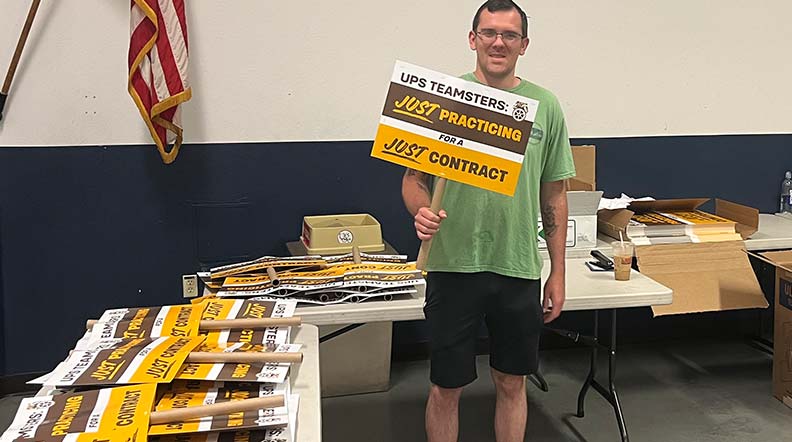 Shop Steward Alex Woolner, out of Sunnyvale, is hustling hard for all his UPS Sisters and Brothers. "A big shout out and thank you to Alex and UPS'ers like him who are putting in the time to make a better life for all of the UPS 853 Teamsters." Said UPS Business Agent, David Crawford
Read More