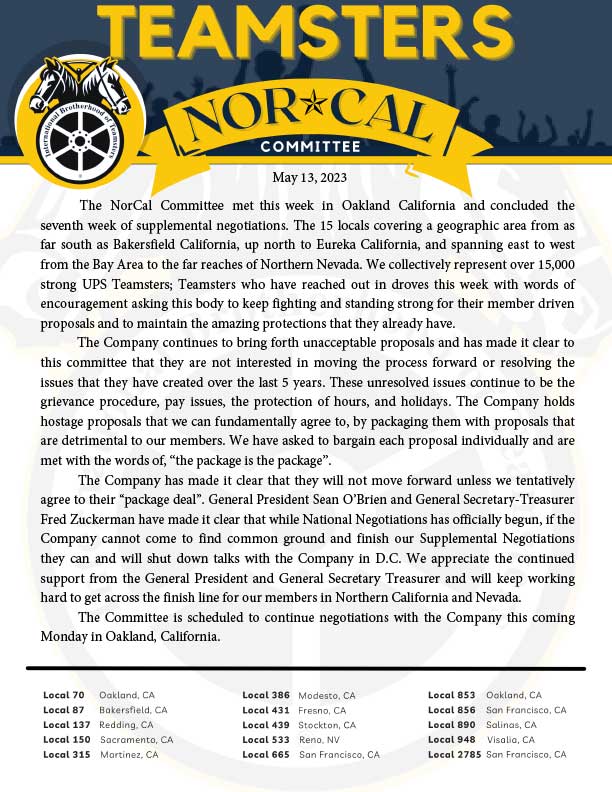 The NorCal Committee met this week in Oakland California and concluded the seventh week of supplemental negotiations. The 15 locals covering a geographic area from as far south as Bakersfield California, up north to Eureka California, and spanning east to west from the Bay Area to the far reaches of Northern Nevada. We collectively represent over 15,000 strong UPS Teamsters; Teamsters who have reached out in droves this week with words of encouragement asking this body to keep fighting and standing strong for their member driven proposals and to maintain the amazing protections that they already have.
The Company continues to bring forth unacceptable proposals and has made it clear to this committee that they are not interested in moving the process forward or resolving the issues that they have created over the last 5 years. These unresolved issues continue to be the grievance procedure, pay issues, the protection of hours, and holidays. The Company holds hostage proposals that we can fundamentally agree to, by packaging them with proposals that are detrimental to our members. We have asked to bargain each proposal individually and are met with the words of, "the package is the package".
The Company has made it clear that they will not move forward unless we tentatively agree to their "package deal". General President Sean O'Brien and General Secretary-Treasurer Fred Zuckerman have made it clear that while National Negotiations has officially begun, if the Company cannot come to find common ground and finish our Supplemental Negotiations they can and will shut down talks with the Company in D.C. We appreciate the continued support from the General President and General Secretary Treasurer and will keep working hard to get across the finish line for our members in Northern California and Nevada.
The Committee is scheduled to continue negotiations with the Company Monday, May 15th, in Oakland, California.