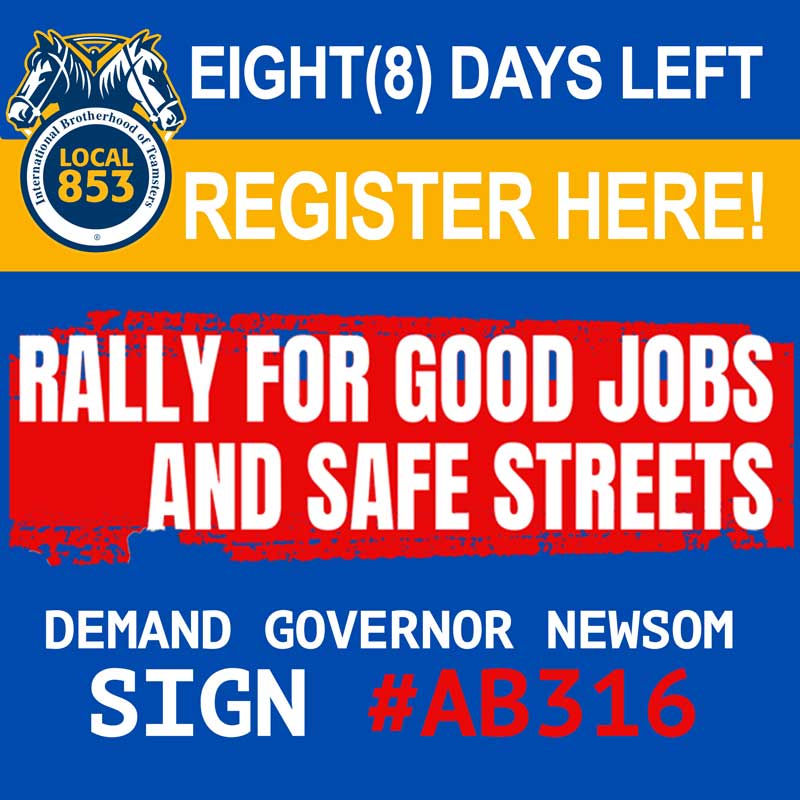 On September 19th, Teamsters all across Northern California will be attending a significant event that will push back against corporate greed and unchallenged new technology in the state of California.
For many months, Teamsters in the Joint Council 7 have spearheaded support for legislation called AB316. AB316 is legislation that will responsibly consider the impact of driverless vehicles on jobs and public safety. And stop the overreach of corporations to make money without consideration for the workers and the safety of the communities they impact.
This legislation is so vital that Teamsters General President Sean O'Brien will drive the lead truck in a caravan to Sacramento to rally California Governor Gavin Newsom to sign AB316.
So we need your help by joining us and showing up in force in Sacramento on the 19th. We expect Teamsters to come from all over the state and to have a crowd of over 1,000 participants. BUT ONLY WITH YOUR HELP!
This rally is about protecting all teamster jobs, not just drivers. When corporations come in and want to take your job, we all stand together with workers and communities instead of robots and tech billionaires.
Sacramento Capital
Sutter Health Park
400 Ballpark Dr
W. Sacramento, CA 95691
Tuesday, Sept. 19th @10am
In Union,
Steve Beck, Steven Lua, and the entire Teamsters Local 853 Staff